Global Communication Center
Improve International Understanding

Our aim is to educate students to be successful in a globalized world.
Shohoku Intercultural Understanding Program

In order to succeed in the accelerating globalization of today's society, what is required is not simply foreign language acquisition but communication skills that foster mutual understanding. Here in the Global Communication Center, we aim for education that equips students with the knowledge, communication skills, and dynamism to thrive in a global society. Through multifaceted educational activities such as foreign language instruction, including English and Chinese; cutting-edge English instruction using our GC Room (Global Communication Room) and CALL (Computer Assisted Language Learning) Room; practical learning of English and foreign culture through study overseas at our partner institutions and through video conference systems; mutual exchange activity through the acceptance of faculty and students from partner institutions ; and facilities such as our English Lounge. We cultivate students' international ways of thinking.

*In 2004, these educational attempts were selected by the Ministry of Education, Culture, Sports, Science and Technology for the Support Program for Distinctive University Education.

Overseas Partner Institutions:
University of Newcastle (Australia), Central Connecticut State University (USA), Australian Catholic University (Australia), University of Victoria (Canada), Ling Tung University, and the Private Industry Business School (Taiwan), Chin Min College of Technology & Commerce (Taiwan)
English Learning Curriculum
We have introduced an English instruction curriculum with small class sizes for the purpose of improving intercultural understanding and practical English-speaking ability that can be used in any type of occupation or industry. For "General English" required for the first year, we use a placement test to place students in small classes differentiated by ability level. With our curriculum, students are able to have fun while learning English in an efficient way, focusing on conversational ability, with content ranging from everyday English to business English based on students' level.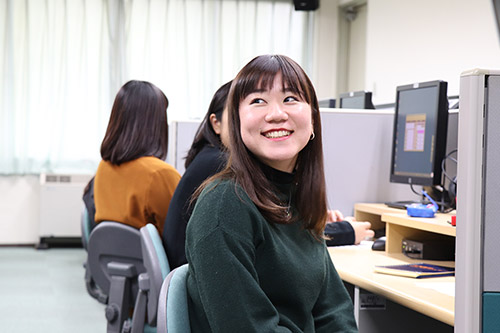 12-week Study Abroad Program
In the Department of Business and Informatics, Tourism Business Field, Study Abroad Area (SELIC), we have introduced study abroad into the regular curriculum. From October to December in the second semester in their first year, students gain practical English ability as well as international ways of thinking at the University of Newcastle. They experience Australian life through homestay for the entire term and volunteer activities. Extracurricular activities are also included, which allow students to spend valuable time with local people. These experiences are far more brneficial than those of going simply traveling abroad. Moreover, we recognize all the classes in Australia as part of our regular classes, and give them credit for classes and volunteer activities.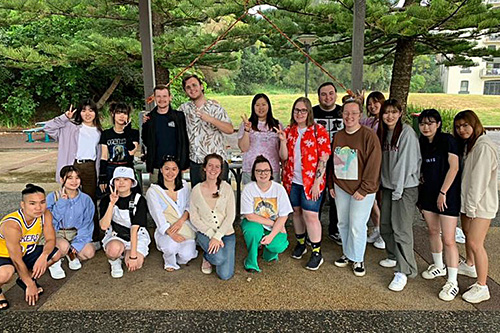 2-week Study Abroad Program (Two weeks in August)
This language study program allows students to deepen their international understanding through their homestays and diverse activities while learning English at our partner institution. This is scheduled to take place over 15 days in August. While studying in an iconic Australian city, students can experience the diversity of cultures unique to Australia through extracurricular activities. Every year, numerous students return having gained valuable life experiences through this program. Our students have had reports being deeply impressed by the experience with comments like "I want to study English even more" and "I definitely want to go back again!"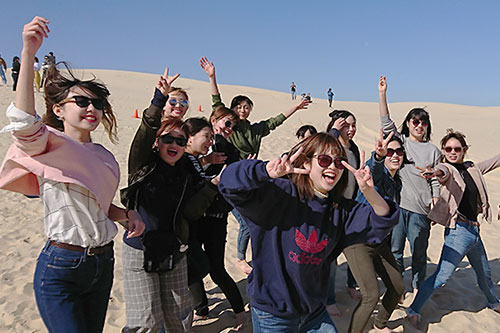 Exchange Program (Two weeks starting in late November)
Every year, we receive approximately 15 students here at Shohoku from our partner institution in Australia. In order to interact with Australian students, a student organization, the International Exchange Committee, plans and holds various programs. Through the programs, Australian students learn Japanese language and culture with our students such as Japanese traditional tea ceremony and calligraphy. Australian students also have some valued opportunities to spend time with Atsugi citizens through homestays over the weekends and visits to local elementary schools and high schools.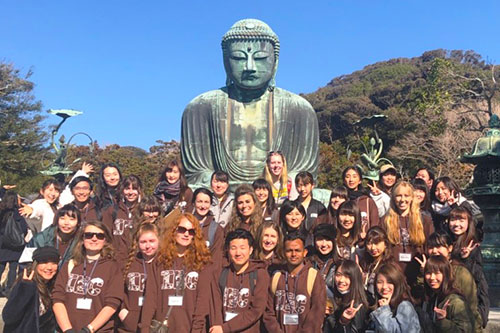 English Lounge
Our English lounge, a salon-style room staffed with native English instructors throughout the day on weekdays, is a space in which students can have fun practicing English conversation and have international exchanges at any time. In addition to visiting lecturers from our partner institution in Australia, we also have American and Ghanaian instructors, allowing students to experience various cultures. Students can have a chat while enjoying a drink, or even stop in for just 5 minutes. With no restrictions on major or year of study, students visit this lounge approximately 2,500 times per year, and they praise this room for its ability to cure their "English allergy." It is also used by high school students from our partner schools.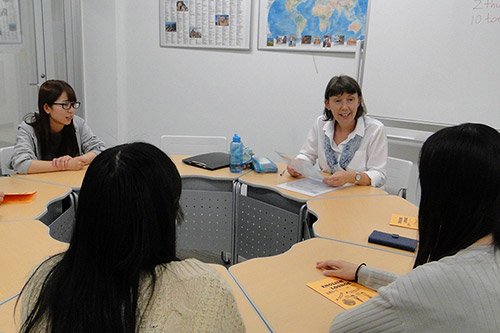 Learning Environment Improvement through CALL Room, etc.
At Shohoku, in order to provide practical English instruction, we offer a special classroom for PC use (CALL Room). It is equipped with not only high-quality language-learning software but also videoconference technology which allow us to offer dynamic instruction via remote lectures.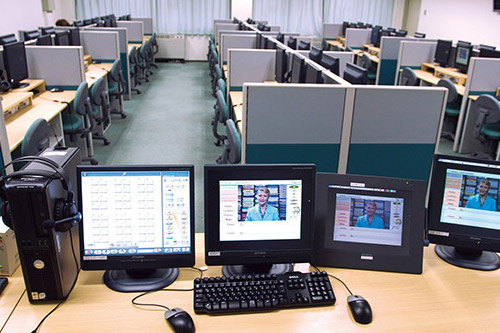 GC Room (Global Communication Room)
We promote active learning in classes in order to deepen intercultural understanding. With moveable chairs and tables, classroom layout can be changed easily and freely, allowing for various styles of learning activities. The large whiteboard on one wall of the classroom is available to show images as a digital blackboard, and also allows text or diagrams written on the whiteboard to be converted to PDF. (The English Lounge is adjacent to this room.)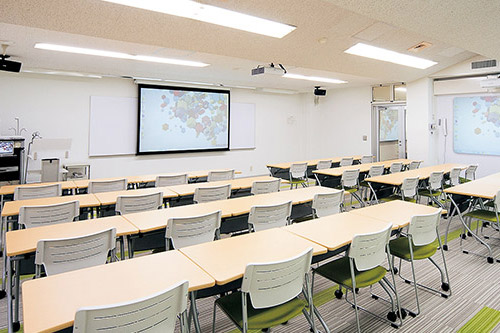 Guest English teachers from Australia
As part of our exchange activities between the University of Newcastle and Shohoku College, we invite a guest teacher from our partner institution from April to August. The teacher gives direct instruction to our students.
Courses which they instruct include English Communication; Australian Studies I, in which students learn about Australian culture and customs; and Special Lessons Prior to Study Abroad, which is offered for the SELIC students who will study abroad for 12 weeks in the second semester. During their stay, the guest teacher provides them with guidance and support in Australia. Thanks to the guest teacher, SELIC students are able to happily and confidently study in a foreign country.